MDC Mini Duplex Connector is the latest connector US Conec showcase in OFC2019, it is the latest form factor and a joint effort between US Conec and Corning. It is similar to SN Connector developed by SENKO.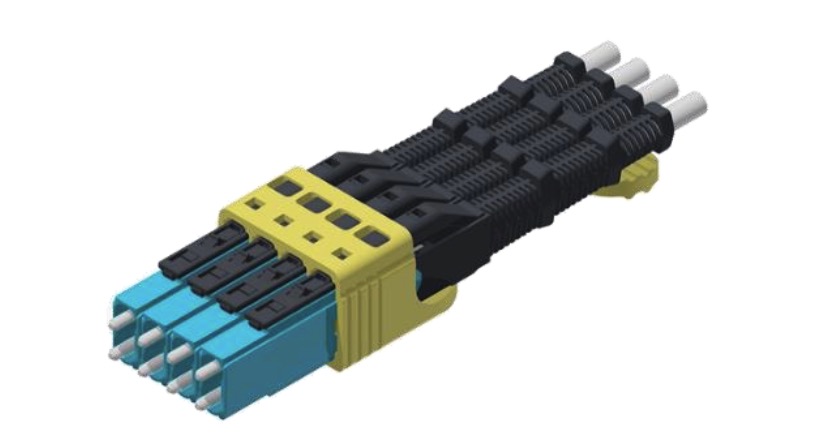 The MDC is a dual-fiber connector manufactured with current 1.25mm ceramic ferrule technology used in the popular industry standard LC connectors. Compared with the standard duplex LC connector, the space between two ferrules is 6.25mm, while the space between two MDC connector is 3.5mm, moreover, the space between two MDC connector is 4mm. A duplex LC adaptor size could hold 3 MDC connectors, which triple denstiy of the patch panel. The MDC adapters fit directly into standard panel openings for duplex LC adapters increasing fiber density by a factor of three. Supporting port breakout architectures for emerging transceiver MSAs, the smaller size will allow a single array transceiver to accept multiple MDC patch cords which are individually accessible directly at the transceiver interface. The new format will support four individual MDC patch cords in a QSFP footprint and two individual MDC patch cord in an SFP footprint.
Insertion and extraction of the MDC connector occurs with a simple push or pull on a flexible and robust strain relief boot providing functional density in very tight spaces. For faster error free installations, an optional aggregation component will allow for insertion and removal of multiple MDC connectors at once. Polarity of MDC connectors is effortlessly changed in the field or factory to support multiple cabling methodologies without the need for tools and without exposing or twisting delicate fibers.
The MDC connector is designed for optimal stability exceeding the requirements of Telcordia GR-326 for carrier or data center applications.