OTDR (Optical time-domain reflectometer) is traditional fiber optic test equipment used to characterize fiber optic. It is most easy to use but the OTDR is also one of the most expensive instrument, OTDR could give you an overview of fiber cable link characterstic of the whole system you test. OTDR is applied for estimating the fiber optic cable length and fiber optic cable overall attenuation. It may also be used to locate faults,such as breaks, bend and so on by measuring the return loss.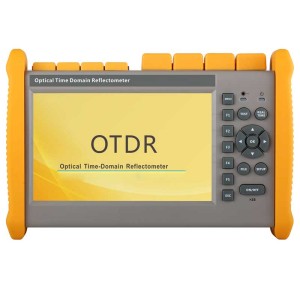 The common types of OTDR-like test equipment are:Full-feature OTDR,Hand-held OTDR,Fiber Break Locator,RTU in RFTSs. Fiber Type mismatching is mean OTDR's guide optical fiber is different with the under test Optical fiber core. In the while, measurement results of optical fiber vertical axis will inaccurate. Transverse measurement accuracy.
The reason of Fiber Type mismatching, when the light incident from the Core diameter small optical fiber to the fiber core diameter larger core diameter optical fiber, the large core diameter fiber can not be incident light is completely full, so measurement error caused loss parameter.
The method of eliminate fiber Type mismatching is choosing right instrument guidance optical fiber, so that measured optical fiber and guide optical fiber phase matching. Such as, use single mode guiding fiber optic measuring single mode fiber, use multimode guide optical fiber measurement multimode fiber. Perhaps, select the corresponding guiding fiber according to the measured Optical fiber type and size.
Tarluz is a leading OTDR manufacturer and OTDR supplier. All of the OTDR are tested inhouse prior to shipping to insure that they will arrive in perfect physical and working condition. And they guarantee the OTDR to work in your system and all of fiber optic products coming with a lifetime advance replacement warranty.