Om een glasvezelnetwerk op te bouwen, levert TARLUZ glasvezelbekabeling en kabelmanagement (zoals patchpanelen). Hieronder vindt u meer informatie over MTP/MPO technieken en preterm glasvezelkabels van TARLUZ.
Wat is MTP/MPO?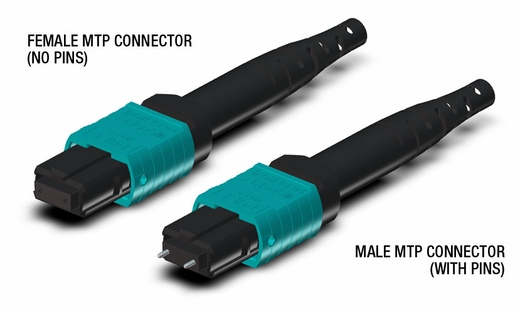 Binnen glasvezelbekabeling zijn er net als op ons wegennet meerdere manieren om de hoeveelheid data te optimaliseren. Door toepassing van MTP/MPO bekabeling wordt er gebruik gemaakt van meer fysieke vezels, waardoor meer data getransporteerd kan worden. In de praktijk wordt binnen MTP/MPO oplossingen gebruik gemaakt van 4 vezelparen, waardoor de capaciteit met een factor 4 wordt vergroot. De afbeelding  hiernaast geeft duidelijk weer hoe een MTP/MPO oplossing is opgebouwd. Vanuit één MTP/MPO connector kan de kabel worden uitgesplitst in meerdere separate vezels.
Toekomstbestendig dankzij MTP/MPO technieken
De databehoefte blijft, onder andere door het "internet of things", de komende jaren stijgen. Door nu al te kiezen voor een bekabelingsconcept op basis van MTP/MPO technieken bent u over een aantal jaren in ieder geval verzekerd van een goede en afdoende backbone. Op dit moment is het mogelijk met fanout kits of adapters eenvoudig de connectie te maken naar de huidige apparatuur. Op het moment dat het dataverbruik stijgt en MTP/MPO aansluitingen op de switches standaard zijn, kunt u overschakelen op MTP/MPO patchkabels en deze eenvoudig aansluiten op uw bestaande MTP/MPO backbone.
Preterm glasvezelkabels
Ben u op zoek naar een multimode kabel of singlemode kabel? Een kabel voor binnen zoals de Simplex, Duplex, Tight Buffered en Breakout glasvezelkabels? Of een ber optic kabel voor buiten zoals de Loose Tube (steel taped armoured)? TARLUZ levert vrijwel iedere soort kabel op maat. De kabels zijn uiteraard van de hoogste kwaliteit en voorzien van een individueel testrapport met 5 jaar garantie.
Demping
De afname in het vermogen van een optisch signaal van input naar output, wordt gemeten in dB. Demping in een vezel komt door absorptie, re ectie, verstrooiing, dispersie of diffusie. Vergeleken met koper is de demping bij glasvezel laag. Soms is demping nodig; dempers zijn er voor alle gangbare connectortypes.
Insertion loss
Het totale optische vermogensverlies dat veroorzaakt wordt door toevoeging van een optisch component, zoals een connector, verbinding of koppeling wordt insertion loss genoemd.
Return loss
In een glasvezel is return loss het verlies dat plaatsvindt door re ectie naar de bron. Dit re ectiefenomeen wordt ook wel 'Fresnel re ection loss' of 'Fresnel loss' genoemd. Dit verlies is minimaal wanneer twee vezelkernen identiek en perfect uitgelijnd zijn, wanneer de connectoren of splitsingen correct zijn afgewerkt en er geen vuil aanwezig is.